Event Management Company In Delhi / India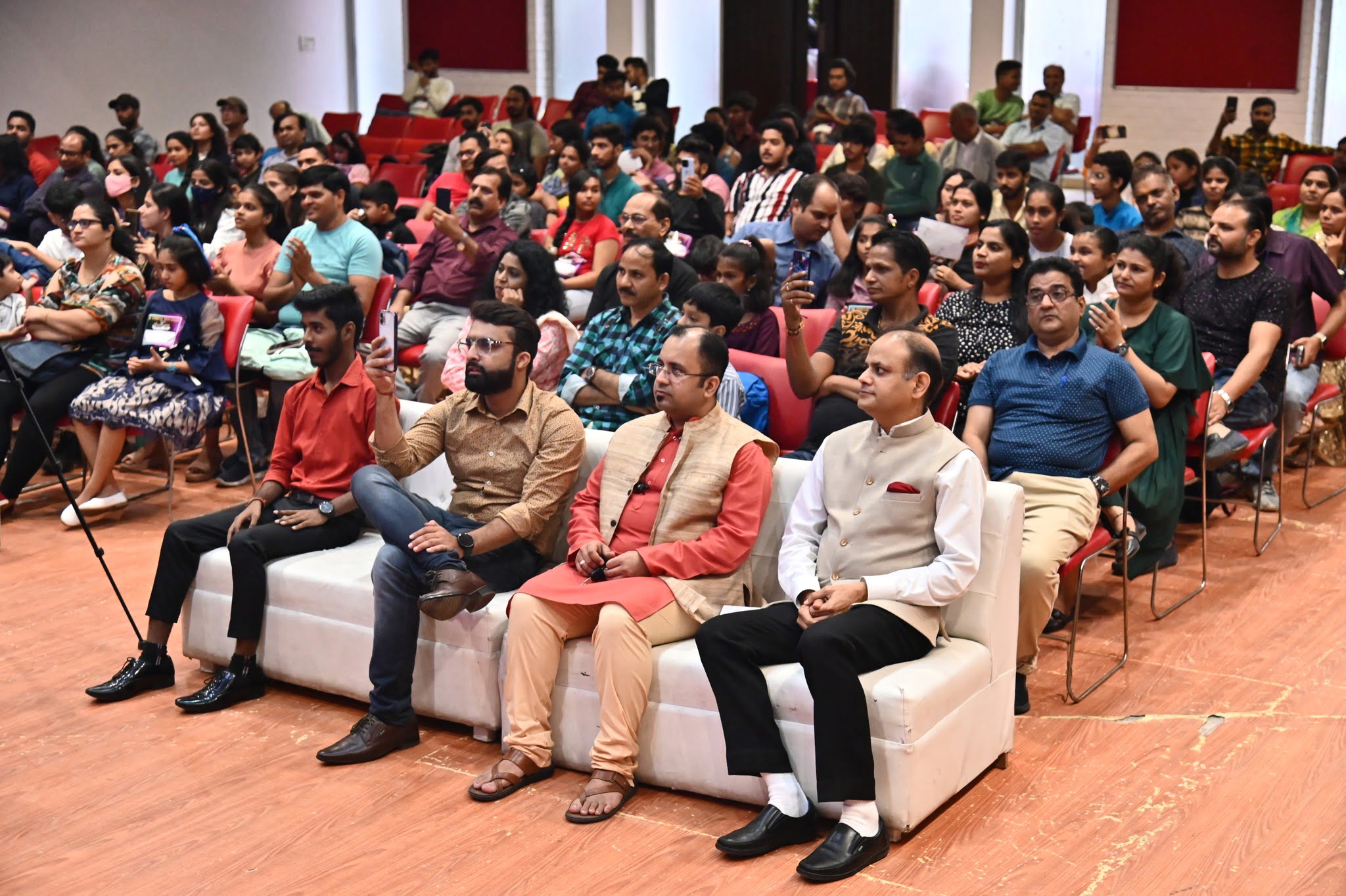 289151926_2871893333111695_5182008108614209130_n (1)
307446168_481441873993701_4147990604508237921_n
198234362_2608366042797760_8359278614953735209_n
Events on either a small scale or a large scale can help your business gain a reputation, build long-lasting connections and more. It requires skills to take care of every single detail, from catering to hosting, gifts, awards, and security. So, organising an event and making it a success is not a child's play. You need skilled and professional people to make your event the talk of the town.
Event Management includes the necessary responsibilities to be event planners and make it successful that can please the target audience and also, the brand whose event it is. It revolves around creating events like corporate events, conferences, health camps, festivals, ceremonial events and other events which can benefit a brand in exposure. An event manager also handles things like external vendors and professionals. A proper event management is essential for any successful event and we at FMS give not our 100%, but 1000% to make any event to happen with full pomp and show.
Floodlightz Media Solutions, as an event management company in Delhi, India, can take care of events ranging from corporate events to wedding planning, to conferences and seminars, brand activation, fashion shows, and even birthday parties. If you wish to organise events on a professional front, such as product launches and award shows, or more personal events like weddings and pool parties, our event management services are all that you need. Our event managers are highly professional and creative individuals who will leave no stone unturned to add a unique touch to your event.
So, FMS is the perfect choice for selecting one of the best corporate event management companies in Delhi-NCR, India. We have relationships with outside vendors, a list of premium and best-suited locations for your event, and we work as a decision support tool throughout the event. Additionally, we take care of all the security and safety measures to avoid any disruption to your event and make it a success.
Some of our major event management services include:
Wedding
Road Shows
Concerts
Artist Management
Celebrity Management
Model Management
Sports Events
Party Organizer
Birthday Party
Bachelor Party
Pool Party
Manpower Management
Floodlightz Media Solution has delivered successful events for top companies and organizations like INOX Leisure, CII, National Management Summit, Max Lifestyle, Mahavir Internationals, Vivek Travels, Hospitality India, etc.
Why we are different?
Floodlightz Media Solution, the best event management companies in Delhi-NCR, is one of the flourishing marketing and media companies which focuses on building the best mutually beneficial relationship between the public and the brand. We create tailored communication strategies and content to reach the audience and monitor the landscape of stakeholder statistics. Event Management is a field in which FMS specializes.
Things to take care of while planning your event :
To not overlook anything.
Coordinating outside vendors.
Booking the location.
Monitoring the event.
Health and safety responsibilities.
Work as a decision support tool for the entire event.
The list doesn't end and the responsibilities vary from event to event, building is base on the theme and how we manage the event to be the best. FMS is the leading event organisers in delhi, which has fabulous organizational skills which include multitasking and time management skills too. We master corporate events to engage employees, give them corporate awards and increase productivity.
With every event which is handed over to us, we understand that the expectations are high and that's the reason we work with immense enthusiasm even when we are filled with various responsibilities. The smile of everyone working in our team is contagious and it spreads all over the event creating happy and joyous vibes. FMS also ensures flexibility and creativity which we start from the beginning with envisioning the event and leading it to be a successful event through execution.
Floodlightz Experience of more than 10 years.
Floodlightz Media Solution has delivered successful events for top companies and organizations like INOX Leisure L, CII, National Management Summit, Max Lifestyle, Mahavir Internationals, Vivek Travels and Hospitality India, and many more.
FMS concentrates on working on the 3 basic things which make an event come into the limelight of the target audience. The event planning at FMS revolves around:
Idea
Promotion and Production
Audience
FMS an event gives you an all-in-one platform to organize an event. We work on production which revolves around giving you the best stage and decoration accompanied by great attractive light and sound environment. We also ensure the best manpower is at your service. From emcees, and promoters to entertainment which includes people who do prayer, dancing, and even jugglers and mascots, we bring out the best people to make your event super successful and memorable. We also work on the security of the event. FMS also helps in registration and partnering, if the company needs it.
Event management is both a skill and an art. It involves choreographing people and activities in order to create a spectacular event that leaves memories in the heart of the audience. Among the top notch event organisers FMS is a blooming event management companies in Delhi, India which also helps in the sponsorship of the event.
Frequently Asked Questions For Event Management Service
What is Event Planning?
Event planning
is the method by which a project such as a ceremony, meeting, and so on, is managed by skilled event planners. The event generally include -
Collaborate with vendors
Setting timelines
Figuring out a budget
Searching event sites – venue should be quite approachable
Securing permits
Planning food and lodging for event invitees
Arranging transport & professional manpower for guest coordination and other arrangement
Selecting a theme
However, these are some of the tasks of event planning. Here, it includes everything under the sun needed to organize an event successful. 
What is Event Management?
Event management is the process of creating and hosting an event. This process spread from the very beginning of planning all the way to post event strategizes. At the beginning, an event manager makes planning decisions, such as the time, location, and theme of the event. Throughout an event, event managers look after the event and make sure things run
fluently.
All different branches of planning go into event management, including various types of sourcing, design, regulation checks, and on-site management.
In event management, you could be in the process of producing a conference, a product launch, or even a wedding. Indeed, any event that requires considerable planning and accomplishing event management.
Why do we need an Event Planner?
Hiring an event planner may appear, to several people, to be an unnecessary and added expense. An event planner can save you large amounts of money, in division to the dimensions of your event.
Here are 5 ways in which that an event planner can save your money.
Professional Network
–
It is the job of event planners to maintain a network of suppliers and vendors that they regularly deal with, from venues to flower suppliers to catering, among others. This special connection allows the event planner to get 
discounts and deals 
that you may not get by going directly to the supplier yourself.
Savings on Hotel Costs
-
You may want to book a block of rooms with a particular hotel, along with a meeting room inside the hotel itself. To save on costs, you can ask your event planner to return the commission that the planner might usually get from the hotel. This can save you a chunk of money, dependent on the area of your event.
Negotiation Skills
-
A good event planner will know what is important to the venue that you are booking, and should be able to 
negotiate a jointly beneficial contract
 for both you and the venue. For example, the event planner can negotiate free services, to reduced rates on rooms, or perhaps lower rates or free use of meeting rooms.
Added Discounts -
Because
event planners handle multiple events, vendors and suppliers value the business these planners bring and many times provide better pricing, with a special discount for the event planner. You can ask your event planner if the added discounts they get from their vendors can be pass on to you.
Time and Stress -
They say time is money, and an event planner saves your time so that you can do other things that may be more important to you. You also have peace of mind in knowing that someone is taking care of the details of your event in a professional way.
How do you select your Event Vendors?
Once

you've

determined

the purpose, audience, and budget for your event, you just need to select vendors to help carry out your vision. Even if you are a top-notch event manager, you

can't

go at it alone. If you think of a wildly successful event,

you'll

need to choose exceptional vendors. Employing vendors that are anything less than exceptional could result in a less than

optimal

experience for guest.